Report by World Bank's own evaluators say its investments support logging and do little to help rural poor people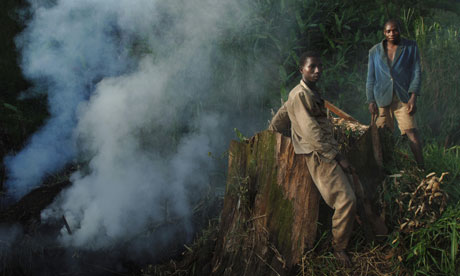 The 202-page report – a copy of which has been seen by the Guardian – was compiled by the Independent Evaluation Group (IEG), which consists of senior bank staff and outside consultants. The document says the bank's financial support helped to protect 24m hectares (59m acres) of forest around the world and to classify 45m ha of forest as being on indigenous people's land. But it says the bank mostly failed to address critical social and environmental issues.
The World Bank funded 345 major forestry projects in 75 countries in the decade to July 2011. The IEG panel, which visited many of the projects and interviewed hundreds of people, criticised the bank strongly for:
• Continuing to support industrial logging.
• Not involving communities in decision-making.
• Assuming that benefits would accrue to the poor rather than the rich and powerful.
• Paying little attention to rural poverty.
It is not known which bank forestry projects UK money has been invested in, but the IEG said that forestry financing often failed to achieve its environmental targets: only one-third of the protected-area projects designed since 2008 included climate change in project design, and "sustainability of the environmental outcomes in three-quarters of bank-supported projects was found to be at risk". It found that only two out of 37 projects that the bank funded in protected areas achieved their aims to help people find work, and three-quarters of these projects forced people to move against their will.
One of the problems identified was that the bank mostly worked in officially managed forests in the poorest countries, but consistently ignored the unmanaged areas where millions of people live and depend on forests. "By neglecting the informal sector, the World Bank has missed an opportunity to reach more forest-dependent rural poor," says the report.